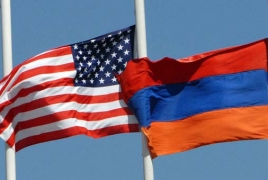 August 11, 2016 - 17:54 AMT
PanARMENIAN.Net - The Armenian government on Thursday, August 11 approved the proposal to increase cooperation with the U.S. to prevent smuggling of nuclear and radioactive materials through Armenia's territory, ARKA reports.
Deputy foreign minister of Armenia Ashot Hovakimyan told the Cabinet session that the Armenian-American inter-ministerial group held four meetings so far.
"The American side proposed to supplement the cooperation with a new mechanism for the exchange of experience and information to support the organization of examinations, to assist in the conduct of investigations into cases of smuggling of nuclear and radioactive materials, ' Hovakimyan said.
According to him, the government has agreed to the proposal, taking into account the fact that these steps can improve the quality of the fight against smuggling
Following the latest meeting of U.S. and Armenian officials in Yerevan on June 13 to review ongoing efforts to prevent smuggling of radioactive materials through Armenia's territory the U.S. Embassy in Yerevan said incidents of nuclear and radioactive material smuggling around the world highlight the need for coordinated international efforts to secure these dangerous materials and keep them from falling into the hands of terrorists or other criminals who might use them for malicious purposes.
The U.S.-Armenian efforts against nonproliferation stem from a joint action plan that was signed in 2008 by then-U.S. Secretary of State Condoleezza Rice and Foreign Minister Edward Nalbandian. The Joint Action Plan on Combating Smuggling of Nuclear and Radioactive Materials lists steps that Armenia can undertake to strengthen its capacity to prevent, detect, and respond to nuclear and radioactive material smuggling.
U.S. assistance to Armenia as it moves forward to implement the plan has included training, equipment, and other forms of support. Together, the two governments have strengthened security at Armenian facilities that house radioactive materials, improved Armenia's ability to detect radioactive materials that might cross its borders, and developed Armenia's capacity to investigate nuclear smuggling incidents.