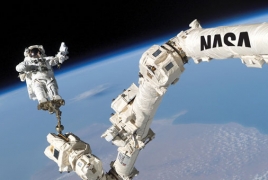 August 17, 2016 - 12:01 AMT
PanARMENIAN.Net - Ever wanted to sort through NASA's enormous collection of research results, but didn't have an easy enough way to go about it? NASA has a solution for you, with a new public web portal that the organization hopes will help make checking through its research results simpler, Engadget said.
It's called PubSpace, and it's a searchable archive of science journal articles produced by NASA-funded research available online for free. You can download data within one year of its original publication.
The agency is looking to make its scientific data more accessible via "one-stop shopping," which is meant to aid dissemination of research results to further scientific knowledge. Basically, making it simpler for the public to access NASA's stores of research papers ensures additional research and breakthroughs in the future.