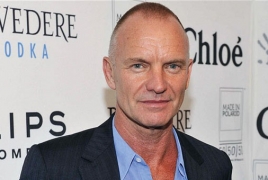 August 31, 2016 - 14:45 AMT
PanARMENIAN.Net - Sting has said that his new album is inspired by the "immortal" David Bowie, NME reveals.
The 64-year-old musician will release his twelfth solo studio album, '57th & 9th', this autumn. Recorded in just four months, it's named after the intersection that he passed every day on the way to and from his recording studio in New York City.
Speaking to Entertainment Weekly about the composition of the album, Sting paid tribute to Bowie by saying that he considered him to be "immortal."
Talking about the song '50,000', which features lyrics about the death of rock stars, Sting said: "David Bowie went first, and then Lemmy, and then my friend Alan Rickman died, and then Prince. It all seemed to topple on top of each other. It was a strange time because you think that these people are immortal, but then suddenly they're like the rest of us, they die.
"It intrigues me that great success is this brilliant light, but also every brilliant light creates a dark shadow," he continued. "I think wisdom only comes when you can navigate both. I'm getting philosophical."
Sting also cited climate change as a major influence on the record, as well as his adopted home of New York.
"I do a lot of my thinking on the move and it's an inspiring city to be in," he mused. "Pedestrians, the traffic, the noise, the architecture — the scale of New York is very stimulating for the mind. The walks is very much a part of the process."
'57th & 9th' will be Sting's first solo album since 2013's 'The Last Ship'. Back in July, he told Rolling Stone that '50,000' was written in the week Prince died, saying that the song is "a comment on how shocked we all are when one of our cultural icons dies."