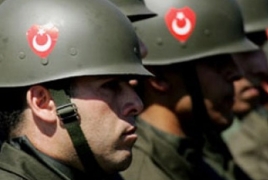 August 31, 2016 - 15:46 AMT
PanARMENIAN.Net - Turkey on Wednesday, August 31 dismissed reports of a ceasefire deal with Kurdish rebels in northern Syria, and vowed to continue its week-old military incursion into the neighboring country until all "terror entities are eliminated," the Associated Press reports.
In comments made to the state-run Anadolu news agency, Turkey's European Union affairs Minister Omer Celik said that "Turkey is a sovereign state ... a legitimate state" and that "to suggest it is on a par with a terrorist organization and suggest there are talks between them, that a deal has been reached between them, this is unacceptable."
Turkey considers the Syrian Kurdish forces an offshoot of the Kurdistan Workers Party, or PKK, a domestic group that Ankara has declared a terrorist organization.
Last week, Turkey sent its troops and warplanes to back Syrian rebels in their advance on Jarablus, a town near the Turkish border and the next IS-stronghold after Manbij. Turkey's incursion helped the rebels take Jarablus from the Islamic State group, but clashes subsequently broke out in the area between Turkish and Kurdish forces — both U.S.-allies.
Turkish troops clashed with the U.S.-backed Kurdish Syrian forces around Jarablus to try to halt their advance and form a contiguous corridor on the border between Turkey and Syria.
On Tuesday, the Kurdish-backed Jarablus Military Council said in a statement that it had agreed to a cease-fire following consultations with the U.S.-led coalition leading a fight against Islamic State militants.
The Pentagon has denied reports it was monitoring a cease-fire but said Turkish forces had moved to the west, while Kurdish forces had moved east of the Euphrates River, as per the insistence of Turkish and U.S. authorities, AP says.
Turkish Prime Minister Binali Yildirim said Wednesday that military "operations will continue until all terrorist elements have been neutralized, until all threats to our borders, our lands and our citizens are completely over. "
He reiterated Turkish calls that Washington has to live up to its assurances that the Syrian Kurdish Democratic Union Party, or PYD, fully withdraws to the east of the Euphrates River, and that the pullout immediately takes place.