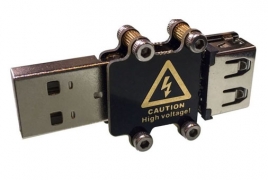 September 1, 2016 - 13:31 AMT
PanARMENIAN.Net - Like most people, you probably push your laptop to the edge by running Netflix, 57 Chrome tabs and Football Manager all at the same time. But if you're tired of running your computer's processing unit into the ground without complete destruction, there's now a USB device that can finish the job for you, Digital Spy said.
First introduced as a proof of concept in October last year, the seemingly ordinary stick jolts devices with a bolt of electricity whenever inserted. While its supposed function is to act as a tool for security researchers and those working in USB standards, the tech-destroying bundle is now available for anyone to buy.
Per the USB Killer's webpage, it's a testing device which should be owned by every security auditor and hardware designer.
It also claims it will destroy 95% of devices it's inserted into, though a USB Test Shield, a gadget that purportedly lets you safely test a device's resistance to USB Killer's high voltage attack, is also being sold.
Apparently, Apple is the only company not vulnerable to a USB attack, USB Killer told Mashable, with it voluntarily protecting its hardware.
For the rest of you, though, make sure you're on the lookout for the pocket-sized gadget killer. Or, if you're in the market for a new laptop and need an excuse, you can pick up the USB Killer for $55, Digital Spy said.