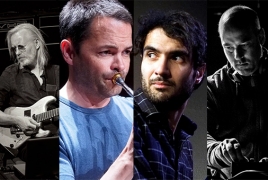 September 5, 2016 - 11:22 AMT
PanARMENIAN.Net - The Guardian's main jazz critic, John Fordham has published a review of a jazz album – "Atmosphères" – by Armenian pianist and composer Tigran Hamasyan in collaboration with 3 Norwegian musicians – Arve Henriksen, Eivind Aarset and Jan Bang.
"As the charismatic young Armenian-American pianist Tigran Hamasyan made plain from the start, his ancestry would always anchor his music however eclectic and westernised it became," Fordham said.
"Hamasyan's folk references (notably to Komitas, Armenia's legendary composer-priest) bring a timeless lyrical lilt to the contemporary sound of this new electro-acoustic quartet, which features the luminous trumpet sound of Arve Henriksen, guitars by Eivind Aarset and cutting-edge electronics from Jan Bang.
"The pairing of Hamasyan and Henriksen, meanwhile, brings an unexpectedly song-based seductiveness to an all-improv session including such hi-tech experimenters as Aarset and Bang. One CD rather than two might have tightened the drama and dynamics, but the sounds herein – Henriksen's opulent midrange tones and pleading ascents amid Hamasyan's bubbling-stream ruminations; discreetly skittish dances; plugged effects mimicking horn harmonies; and occasional exhilarating free-improv – announce the arrival of an elite collective with a distinctive identity and big potential."
In a Facebook post on August 23, Hamasyan said that pretty much 95% of the album titled "Atmosphères" is improvised and recorded in 2 days in a studio in Lugano, Switzerland.