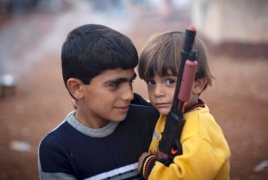 September 10, 2016 - 17:30 AMT
PanARMENIAN.Net - A senior member of the main Syrian opposition umbrella group said Saturday, September 10 it hopes a new U.S.-Russian agreement will be enforced in order to ease the suffering of civilians while an official with al-Qaeda's affiliate in Syria vowed to retaliate throughout the world if the Americans and Russians target them, the Associated Press reports.
Basma Kodmani of the High Negotiations Committee told the Associated Press that Russia should pressure President Bashar al-Assad's government to abide by the agreement reached early Saturday.
"We are closely following this agreement and are waiting for its details to know the conditions of its implementation," Kodmani said by telephone. She said mechanisms will be needed for the enforcement of the deal, including the "cessation of hostilities and the grounding (of) regime air forces."
The United States and Russia announced a deal that foresees a nationwide ceasefire starting on Monday, followed a week later by an unexpected new military partnership targeting Islamic State and al-Qaeda militants as well as the establishment of new limits on Assad's forces.
The military deal would go into effect after both sides abide by the truce for a week and allow unimpeded humanitarian deliveries to besieged areas around the country, AP says.
Then, the U.S. and Russia would begin intelligence sharing and targeting coordination, while Assad's air and ground forces would no longer be permitted to target the al-Qaida-linked militant group of Jabhat Fatah al-Sham, formerly known as the Nusra Front. They would be restricted to operations against the Islamic State.