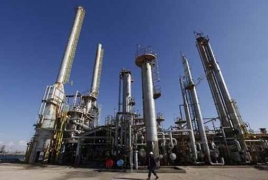 September 14, 2016 - 10:59 AMT
PanARMENIAN.Net - Libya's National Oil Corporation (NOC) said on Tuesday, September 13 it would immediately start working to resume crude exports from ports seized in recent days by forces loyal to eastern commander Khalifa Haftar, Reuters reports.
Welcoming pledges from Haftar's Libyan National Army and the pro-Haftar head of Libya's eastern parliament that the ports would be placed under NOC control, NOC Chairman Mustafa Sanalla said he hoped for a "new phase of cooperation", and that production could be raised to 600,000 barrels per day (bpd) from about 290,000 bpd within a month.
Any such plans are likely to face political, legal and technical obstacles. Haftar has so far opposed a United Nations-backed government in Tripoli. The United States and five European powers condemned his move on the oil ports on Monday, saying they would enforce a U.N. Security Council resolution against "illicit" exports outside the authority of that government.
Libya desperately needs to revive oil output and exports to stave off an economic collapse.
Political turmoil, armed conflict and militant attacks have reduced Libya's oil production to a fraction of the 1.6 million bpd it was producing before the North African country's 2011 uprising. Some infrastructure, including at key oil export terminals, has been badly damaged.
Starting on Sunday, pro-Haftar forces took control of the ports of Ras Lanuf, Es Sider, Brega and Zueitina from units of the Petroleum Facilities Guard (PFG), a rival force allied to the U.N.-backed Government of National Accord (GNA).
The move risks provoking armed retaliation from Haftar's rivals and deepening an east-west divide, potentially prolonging the conflict and fragmentation that developed after longtime ruler Muammar Gaddafi was toppled five years ago.
Many in western Libya, including key backers of the GNA, see Haftar as a new strongman in the making and want him to have no role in the country's future. But he has gained popularity in the east, where he has waged a campaign against Islamists and other opponents for the past two years.
The NOC said on Tuesday it would "begin work immediately to restart exports", and that all exports must conform with the U.N. resolution.
"Our technical teams already started assessing what needs to be done to lift force majeure and restart exports as soon as possible", Sanalla said in a statement.
"I hope this marks the beginning of a new phase of cooperation and coexistence between Libya's factions, as well as an end to the use of the blockade as a political tactic."