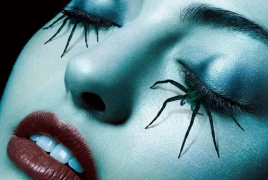 September 15, 2016 - 12:33 AMT
PanARMENIAN.Net - No more guessing. After months of speculations about the theme of "American Horror Story" season 6, the closely guarded secret has finally been revealed during the premiere on Wednesday, September 14, AceShowbiz said. Series creator Ryan Murphy opened the first episode with a pre-taped message in which he said, "Tonight we answer the question that's been haunting everybody, think you've figured it out? Let's wait and see."
The first episode was framed as a true crime-style docuseries titled "My Roanoke Nightmare" centering on a couple, Shelby (Lily Rabe) and Matt (Andre Holland), who moves into an ominous house in Roanoke, N.C. where strange things begin happening.
Matt blames the events on their neighbors. When he travels for work, he calls his sister Lee (portrayed by Adina Porter in first person camera and Angela Bassett in flashbacks) who is an ex-cop to accompany his wife.
Later when Shelby leaves the house, she hits a woman (Kathy Bates), who appears to be a ghost as she wears a colonial dress, with her car. Shelby chases her into the woods and gets lost. She is haunted by childlike figures that were similarly hung in her house and the vision of the pig-headed man she saw earlier. Shelby then finds herself surrounded by men bearing torches and Wes Bentley appears, apparently as the leader of the group.
The episode ended there and the rolling credits revealed Evan Peters, Denis O'Hare and Cheyenne Jackson as additional cast members. While Lady GaGa had confirmed her return, her name was missing from the credits, hinting at a possibly smaller role for the singer.
The second episode will air next week, on September 21, but no preview is released for the upcoming outing yet.