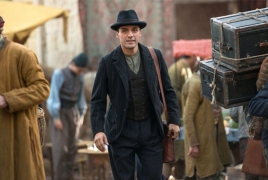 September 15, 2016 - 17:29 AMT
PanARMENIAN.Net - It's important to be as accurate as you can, even with the fictional scenes embedded within your reality, writer and director Terry George says of "The Promise" in an interview with The Hollywood Reporter.
George's new movie is an epic romance set against the backdrop of the Armenian Genocide that bowed Sunday evening at the Toronto International Film Festival. The film has already been targeted by Internet trolls for its controversial subject matter. The YouTube trailer has more than three times as many dislikes as likes, an atypical distribution for the social media site that may suggest a concerted PR campaign against the film.
George talked to The Hollywood Reporter about how he got his political bearings for such a hot button project, about working in the vein of Warren Beatty's Reds and David Lean's Dr. Zhivago, and about how to take money from an advocacy organization without being forced to make "a piece of propaganda."
"My agents came to me with this great script by Robin Swicord. They were fully financed and ready to go, and Christian Bale and Oscar Isaac were both very interested. We wanted to make something that was big and expansive, on the scale of Dr. Zhivago by David Lean or Reds by Warren Beatty. The story of the Armenian genocide has been suppressed by successive Turkish governments, and we were well aware of that, but we wanted to go after it anyway. At the beginning, we tried to fly under the radar as much as we could so that we didn't have to deal with outside pressure. So we shot in Spain and Portugal and Malta. We were crucially aware of what we were trying to do, so we said, let's get this thing made and put it out there, and then have the political debate and the conversation that we need to have. I talked to a couple of Turkish journalists about this, and some of them really liked the film, but not enough to go out there and put their name behind it," George recounted.
"I've learned from films like "In the Name of the Father" and "Hotel Rwanda" that everything you put on screen has to be fastidiously researched. Even the fictional scenes that are woven throughout the real events and the real people you're portraying can't just be made up. They have to reflect something real that was going on at that time and place. The look, the feel, it all has to be real, and of course the actual names and dates do as well. It's important to be as accurate as you can, even with the fictional scenes embedded within your reality. So I would build up a dossier and work from that."
There's a library of revisionist and denialist material out there about the Armenian Genocide —that it should be thought of not as a genocide but as a civil war, George said. The other side is that this was designed, that it was planned, he added. "And as someone who studied these events, it's important to understand the political motivations of both sides so that we can have a discussion, but it's absolutely not a question of did it happen -- because it did -- but why did it happen. That's the question you need to get to."
"There's no doubt the Armenian community will embrace this film. And there's no doubt it questions the entire Turkish narrative. I'm sure it won't be shown in Turkey. At least, I'd be really surprised. But I developed a sort of mantra in the past about how to think about the reception of difficult stories like this one, which is, how will it play in Peoria, Illinois? If they don't get it in Peoria, then we've failed. So that became our attitude and catchword. I wanted to make a film that moves and enrages, that really evokes the spirit of rage, because that's what the events called for.
"When you're working with massive talents like Bale and Isaac, you really just step back and offer a few suggestions. We put a lot of research into costumes, mannerisms, accents, but that's all you can really do. Isaac is so facile with his voice. There was also an evolution in journalism at this time that Bale and I were intrigued by, from the straight reporting of more than a century ago to the more incendiary yellow journalism of the early 20th century. I wanted to embody those ideas. We also wanted a diverse cast, and we opened it up to actors from the Middle East. Unfortunately, we only had two Turkish actors, because many were afraid for their jobs and their careers and we understood that."
Asked where the money for this film came from, George replied: "Well, we were fully backed by the Kerkorian Foundation. And we had an Armenian-American production company. So we obviously had their support throughout the process. But, you know, Queen Elizabeth funded Shakespeare, and no one calls Richard III a piece of propaganda. There's a difference between a perception of a story and the veracity of a story. We never wanted to dictate perception, just tell the truth. Of course, everything is subjective to one degree or another. If you've pointed a camera in one direction for 30 seconds and in another for 5 seconds, you've already made a judgment call."