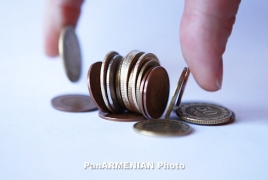 September 17, 2016 - 15:34 AMT
PanARMENIAN.Net - Armenia has been listed in the top 20 among the world's most economically free countries, raking the 18th out of 159 countries and territories, according to a new Fraser Institute report. The country is leading the CIS member states in terms of economic freedom.
This year's Economic Freedom of the World report is based on data from 2014 and measures the economic freedom by analyzing the policies and institutions of all the countries and territories reviewed. The Fraser Institute, independent non-partisan research and educational organization, produces the annual report in cooperation with the Economic Freedom Network, a group of independent research and educational institutes in nearly 100 countries and territories. It's the world's premier measurement of economic freedom, ranking countries based on economic freedom, which is measured in five areas: size of government, legal structure and security of property rights, access to sound money, freedom to trade internationally, and regulation of credit, labor and business.
Only Georgia from Armenia's neighbors was better placed on the World Economic Freedom Index – 5th worldwide – while Turkey, Azerbaijan and Iran took the 90th, 107th and 150th spots, respectively.
The United States ranked 16th for the second year in a row, while Russia came in 102nd.
In the same report published a year earlier and based on data from 2013, Armenia ranked the 18th again.
This year, Hong Kong was rated on the top position worldwide and was rated as having the highest level of economic freedom, closely followed by Singapore (2nd), New Zealand (3rd), Switzerland (4th), Canada, Georgia, Ireland, Mauritius and the United Arab Emirates (sharing 5th to 9th spots), as well as Australia and United Kingdom (sharing 10th to 11th spots).
The Fraser Institute is an independent Canadian public policy research and educational organization with ties to a global network of think-tanks in 87 countries. Its mission is to improve the quality of life for Canadians, their families and future generations by studying, measuring and broadly communicating the effects of government policies, entrepreneurship and choice on their well-being.