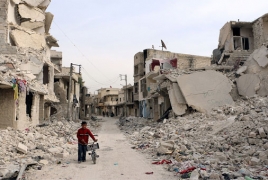 September 21, 2016 - 10:20 AMT
PanARMENIAN.Net - The United States believes two Russian aircraft attacked an aid convoy near Aleppo in a strike that shattered a one-week truce, U.S. officials said on Tuesday, Sept. 20, but Russia denied involvement, according to Reuters.
Despite the military blame game over Monday's deadly attack, diplomats struggled to save the U.S.-Russian ceasefire agreement that took effect on Sept. 12.
The incident, in which 18 trucks from a 31-vehicle convoy were destroyed, looked likely to deal a death blow to diplomatic efforts to halt a civil war now in its sixth year.
Two Russian Sukhoi SU-24 warplanes were in the skies above the aid convoy at the exact time it was struck late on Monday, two U.S. officials told Reuters, citing U.S. intelligence that led them to conclude Russia was to blame.
Russia's foreign ministry spokeswoman denied the assertion, telling reporters at the United Nations the U.S. administration "has no facts" to support the claim, adding: "We have nothing to do with this situation."
Ben Rhodes, a deputy U.S. national security adviser, said the White House held Russia responsible for what he called an "enormous humanitarian tragedy" but he did not address whether the attack was carried out by Russian aircraft.
Earlier Russia, which denied its aircraft or those of its Syrian government allies were involved, had said it believed the convoy was not struck from the air at all but had caught fire because of some incident on the ground.