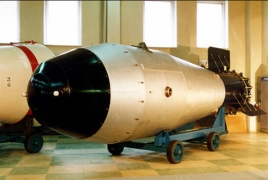 September 22, 2016 - 16:30 AMT
PanARMENIAN.Net - NATO's joint nuclear missions are a serious threat to the existing global nonproliferation regime, Moscow is concerned over the U.S. plans to station new nuclear weapons in Europe, Russian Deputy Foreign Minister Sergey Ryabkov said Thursday, September 22, according to Sputnik.
"Such joint NATO nuclear missions are a serious threat in the non-proliferation sphere as they directly contradict the spirit and the letter of the Treaty on the Non-Proliferation of Nuclear Weapons," Ryabkov said.
"It is a cause of great concern that the United States are planning to deploy new nuclear bombs of reduced power but with greater accuracy in Europe in the framework of modernizing its nuclear arsenal."
NATO continues its buildup of missile capabilities close to Russian borders to Moscow's concern.
Moscow has repeatedly voiced its worries about the United States' European Phased Adaptive Approach missile buildup in the immediate vicinity of Russian borders, Ryabkov added.
He noted the destabilizing factor of the U.S. missile system's European phase and its negative impact on Russia's strategic deterrence tools.
"Although this level has not been reached, the capacity of the U.S. and NATO missile shield will be stepped up. In this regard, we consider Washington and Brussels' reluctance to adjust its missile defense plans symptomatic, despite reaching agreements to resolve the situation surrounding the Iranian nuclear program," Ryabkov said.