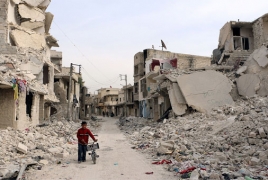 September 22, 2016 - 15:23 AMT
PanARMENIAN.Net - Rebel-held areas of the northern Syrian city of Aleppo saw the heaviest air strikes in months overnight, activists say, as a week-old truce collapsed, according to BBC News.
An AFP news agency correspondent reported that his entire street was left burning after warplanes dropped incendiary bombs on it overnight.
One activist group said 10 people had been killed in Bustan al-Qasr.
Aleppo, once Syria's commercial and industrial hub, has been divided roughly in two since 2012, with the government controlling the west and rebels the east.
Two million people are caught up in the battle for the city, and getting aid to them had been a key part of the cessation of hostilities deal brokered by the United States and Russia. However, no deliveries have taken place so far.
A deadly attack on an aid convoy and Syrian Arab Red Crescent warehouse outside Aleppo on Monday, September 19, for which Washington and Moscow have blamed each other, prompted the UN to temporarily suspend deliveries across the country.
But on Thursday, a spokesman said it was sending a convoy into a besieged suburb of the capital, Damascus, and hoped to reach Aleppo "in the near future".