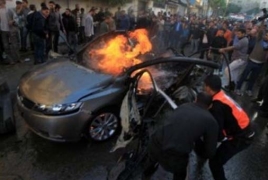 September 22, 2016 - 15:52 AMT
PanARMENIAN.Net - The Islamic militant group Hamas should be removed from the EU list of terrorist organizations, a legal adviser to the top court of the European Union recommended on Thursday, September 22 agreeing with a previous ruling that said the decision to include it had been based on media reports rather than considered analysis, Haaretz reports citing DPA.
Eleanor Sharpston, one of ten legal advisers to the European Court of Justice, argued that the EU "cannot rely on facts and evidence found in press articles and information from the internet, rather than in decisions of competent authorities, to support a decision to maintain a listing," the court said in a statement.
She found that the EU's justifications for maintaining the Hamas listing were "not sufficient."
The European Union first included Hamas on its terrorist list in late 2001. The group, which has had de facto control of the Gaza Strip since 2007, appealed ensuing EU decisions as part of an attempt to prolong its listing as a terror group.
The EU's General Court ruled in December 2014 that Hamas should be taken off the list, taking issue with the fact that the listing had been based on "factual imputations derived from the press and the internet" rather than acts examined and confirmed by authorities.
But EU governments appealed that ruling to the European Court of Justice. On Thursday, the court received advice on the case from Sharpston. The top court generally follows these opinions. The final ruling is likely to take several more months.
Sharpston also looked at a similar case involving Sri Lanka's separatist Liberation Tigers of Tamil Eelam and there too came to the conclusion that decisions to maintain it on the EU terrorist list should be annulled.