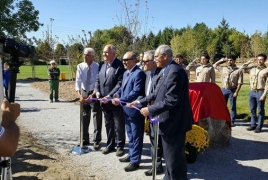 September 26, 2016 - 11:25 AMT
PanARMENIAN.Net - The city of Markham in the Canadian province of Ontario hosted a park dedication ceremony to mark 100 years since the Armenian Genocide on Saturday, September 24, York Region reports.
Federal, provincial and municipal government officials and members of the Canada Armenian Genocide Centennial Committee waited in anticipation as the Forest of Hope was unveiled.
More than one-and-a-half million Armenians were systematically massacred by the Ottoman Empire starting in early 1915.
Canada is one of some three dozen countries that recognize the events as the first genocide of the 20th century.
"We know the meaning of genocide, its history and the importance of education," said Armen Yeganian, Armenia's ambassador to Canada.
"We have to continue to educate, not just today, tomorrow or the first 100 years. But always, because unfortunately it still continues to happen."
The Forest of Hope is one of about a 100 projects to commemorate the genocide's anniversary across the country started by the Canadian arm of the Armenian Genocide Centennial Committee, which was founded four years ago.
The Forest of Hope is located in Ashton Meadows Park near Woodbine Avenue north of 16th Avenue.
The park was designed by renowned landscape architect Haig Seferian and consists of 100 different trees, with different blooming time throughout the year.