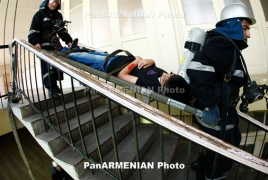 September 27, 2016 - 12:20 AMT
PanARMENIAN.Net - The World Bank and the Global Facility for Disaster Reduction and Recovery (GFDRR), with support from the Japanese Government and other donors, invited government representatives from Armenia, Kyrgyz Republic and Tajikistan in early September to take part in an Experts Visit to Japan, the World Bank said in a statement Monday, September 26.
While disaster profiles and vulnerabilities vary across Armenia, the Kyrgyz Republic and Tajikistan, all three countries, however, share in common a predominant seismic risk.
The visit provided an opportunity for participants to improve their respective crisis management systems by learning first-hand about Japan's experience in disaster preparedness and response systems at national and local levels. Japan, a country that has accumulated much knowledge and operational experience in disaster risk management (DRM) through its own experience with recurring natural disasters, has actively promoted cooperation at a global level to reduce the number of disaster-related victims.
Over the course of a week, Armenian, Kyrgyz, and Tajik officials engaged in discussions with a wide range of national agencies and municipal authorities in Japan.
Acknowledging the proactive approaches to DRM, the World Bank and GFDRR will continue supporting Armenia, Kyrgyz Republic, and Tajikistan as they shift away from a reactive disaster response system to a more integrated disaster risk management and resilience-building approach.
"Combining both conceptual and practical knowledge on disaster preparedness in the Japanese schools was something that impressed us as it showed that schools are not just an educational facility," Head of Crisis Management Center of Rescue Service at Armenia's Ministry of Emergency Situations Hovhannes Khangeldyan said.
"Instead, they are an essential part of a wider disaster management system. We saw how schools in Japan play a proactive role in raising awareness on disaster risks. Schools can also accelerate recovery efforts by becoming safe evacuation facilities if needed."
The World Bank has earlier laucnhed The National Disaster Risk Management Program is aimed at supporting Armenia to further advance disaster resilience by 1 improving disaster risk information, enhancing disaster risk reduction, strengthening disaster preparedness and improving understanding of fiscal disaster risks and risk financing options.
Armenia has historically been prone to earthquakes. The last devastating earthquake in 1988 rocked Spitak, killing 25,000 people and injuring 19,000, severely damaging 517,000 homes and causing an estimated economic loss of$ 15-20 billion in northern parts of the country.
Floods in the country also pose serious danger. For instance, flooding in 2010 caused an estimated $10million in damage.