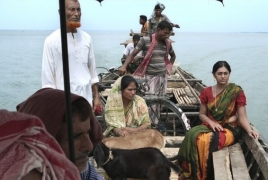 September 28, 2016 - 21:55 AMT
PanARMENIAN.Net - The Bangladesh Federation of Film Societies has chosen Tauquir Ahmed's "The Unnamed" ("Oggatonama") as the country's submission to the Academy's foreign language category, Variety reports.
The film looks at the racket surrounding Bangladeshi expatriate laborers around the world and how often identities are exchanged in order to go abroad in pursuit of dollar dreams.
Stars include Shahiduzzaman Selim, Mosharraf Karim (who starred in 2016 entry "Jalal's Story" and in 2010 entry "Third Person Singular Number",) Fazlur Rahman Babu, Nipun Akhter, and Abul Hayat.
Impress Telefilm, one of the Bangladesh entertainment industry's leading players, produced.
"The Unnamed" has had some festival play and won best director and screenplay at the Goddess on the Throne Film Festival, Kosovo, best director at the Washington DC South Asian Film Festival and a jury mention at the Gulf of Naples Independent Film Festival.
Bangladesh has been submitting to the category since 2002 and is yet to secure a nomination. Nominees will be announced on Jan. 24, 2017.