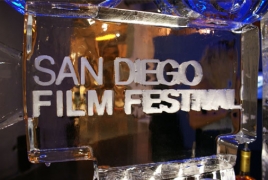 September 29, 2016 - 10:57 AMT
PanARMENIAN.Net - Now in its 15th year, the San Diego Intl. Film Festival has established itself as a major showcase for outstanding U.S. and international independent filmmaking. Produced by the San Diego Film Foundation, the event will once again showcase more than 100 films as it celebrates the year's best indie cinema from emerging and established filmmakers around the world, Variety reports.
This year, the fest's global outlook theme reflects an ambitious strategy that promises "an even bigger and better festival experience," says Tonya Mantooth, the exec VP of the festival.
But the impact is also local. "One of the main things we're excited about is the footprint of the festival downtown," Mantooth says. "We're building out a very walkable festival in the heart of San Diego, and a lot of our screenings will be held in the renovated historic Balboa Theater, a beautiful setting that seats 1,200. So there's this whole new vibe in this area, and audiences and filmmakers alike will be able to hang out after screenings and parties and events."
Films will also be screened at the Regal Theaters in downtown San Diego, and at the ArcLight Cinemas in La Jolla.
In an increasingly crowded landscape of fall festivals, San Diego has managed to separate itself from the herd by a mixture of canny programming, star-driven events and panels, timely social initiatives, and by emphasizing its global reach. Tellingly, the festival has this year added international to its name.
"So many festivals now have their own signature," says fest chairman Dale Strack. "We've been bringing in so much international cinema for several years, so we just decided to make it official."
This year, the festival received more than 2,000 submissions from 63 countries, including features, shorts, and documentaries. Organizers expect attendance to approach 25,000.
The festival's seaside location plays a key role in its "destination appeal," adds Strack. "Clearly, except maybe for Cannes, we have this unparalleled coastal spot, with a perfect climate. There are great restaurants, great hotels, great sea views — just a great location to hold a film festival."
Last year, San Diego embraced several significant initiatives and partnered with Susan Sarandon and filmmaker Thomas Morgan ("Waiting for Mamu") of Reframed Pictures on the Social Justice Initiative. Serving as a platform for documentaries telling transformational stories with lasting social impact, with the goal of shining a light on socially relevant causes, the multi-layered event was a big success, Mantooth says.
"And this year, Susan and Thomas will be back, along with Kweku Mandela, Nelson Mandela's grandson."
In recognition of the large armed forces presence in San Diego, the festival also started an initiative last year, highlighting films and filmmakers that tell military stories. "We've been working closely with an advisory board to bring awareness of our returning vets and what they go through, and to help them when they return," Strack says.
With this in mind, the festival will screen the world premiere of "Citizen Soldier," directed by David Salzberg and Christian Tureaud, about the Oklahoma National Guard. "It's very powerful, a real punch in the chest," Strack says.
At a time when diversity — or lack thereof — has grabbed many industry headlines, the festival has also made a strong commitment to women's issues and causes. Annette Bening, who is being honored with the Gregory Peck Award for Excellence in Cinema, grew up, like Peck, in San Diego. "The award is part of our overall initiative to honor women filmmakers from all over, as well as to emphasize our city's role and legacy in cinema," says Strack.
Highlights this year also include an emphasis on culinary cinema, "with food and wine pairings around a film," Mantooth says. "Some other festivals, including Berlin, have done this very successfully, and we'll be kicking off our own version and expanding on that in the future."