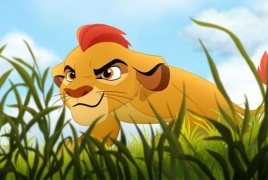 September 29, 2016 - 16:54 AMT
PanARMENIAN.Net - Disney and director Jon Favreau are teaming up for "The Lion King (2018)" reimagining. The project reunites the Mouse House with Favreau following his movie "The Jungle Book" that successfully grossed nearly $1 billion worldwide, AceShowbiz said.
The "Lion King" remake joins Disney's reboots on classic tales like "Maleficent", "Cinderella" and the upcoming "Beauty and the Beast (2017)". Like the new Belle saga, the revamped "Lion King" will include songs from the animated film.
Disney and Favreau are also teaming up to work on a sequel to the Mowgli wild adventure. No release date has been announced for either film, but The Mouse House has booked August 3, 2018, and December 25, 2018 for two untitled films.
The original "Lion King" was directed by Roger Allers and Rob Minkoff. It became the highest-grossing animated film for 16 years until "Toy Story 3" broke the record in 2010. It won multiple gongs including Oscars and Grammys. It spawned a TV series, sequel and Broadway adaptation. It was re-released in 3D in 2011.