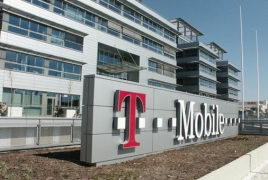 September 29, 2016 - 16:50 AMT
PanARMENIAN.Net - T-Mobile is reviving its summer travel bonus, which will provide postpaid customers with unlimited high-speed data throughout South America and select European countries until 2017, starting October 1, PC Magazine reports.
"I've always thought roaming limits were nuts. So when we found a way to expand our free summer data offer, I said 'Hell yeah!'" CEO John Legere said in a statement.
To celebrate the Rio Olympic Games, T-Mobile gave customers traveling abroad free high-speed data from July 1 through Aug. 31. And, according to the company, people made the most of it, using three times more data during those two months than during the same period in 2015.
Now, get unlimited high-speed data with up to 4G LTE speeds until Dec. 31 in Europe -Armenia, Austria, Croatia, Denmark, Estonia, Germany, Iceland, Italy, Latvia, Lithuania, the Netherlands, Portugal, Russia, Serbia, Spain, Sweden, Ukraine, and the UK - and South America - Argentina, Bolivia, Brazil, Chile, Colombia, Easter Island, Ecuador, French Guiana, Guyana, Paraguay, Peru, Suriname, Uruguay, and Venezuela.
T-Mobile cautioned that "service may be terminated or restricted for misuse or excessive roaming," and it only applies to U.S. residents traveling abroad.
In 2013, T-Mobile dropped international data and text roaming charges in more than 100 countries, allowing U.S. customers to update Facebook, check Google Maps, or send an email while traveling without incurring a massive roaming bill. It's now available in more than 140 countries. Usually, service is capped at 128kbps (or 2G speeds) while abroad, with the exception of Mexico and Canada. But adding T-Mobile One+ for $25 per month bumps it up to 256kbps when out of the US. T-Mobile also offers international high-speed data passes for 3G speeds.