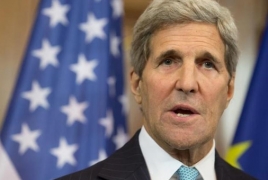 October 1, 2016 - 10:41 AMT
PanARMENIAN.Net - Secretary of State John Kerry is frustrated that his diplomatic efforts to end Syria's civil war were not backed up by U.S. military force, according to a recording leaked Friday, September 30, AFP reports.
In the audio released by the New York Times, Kerry is heard lamenting to a group of Syrian civilians last week in New York that his call for U.S. action against Bashar al-Assad's government fell on deaf ears.
"I think you're looking at three people, four people in the administration who have all argued for use of force, and I lost the argument," he tells the group.
"I've argued for the use of force ... but things evolved into a different process."
State Department spokesman John Kirby did not deny that the recording -- made at a private meeting in a diplomatic mission on the sidelines of the UN General Assembly -- is authentic.
"While we will decline to comment on a private conversation, Secretary Kerry was grateful for the chance to meet with this group of Syrians, to hear their concerns first hand and to express our continued focus on ending this civil war," he said.
It has been widely reported that Kerry pushed President Barack Obama to take a more robust path in Syria, to give teeth to international efforts to force Assad aside and end a civil war now heading into its sixth year, AFP says.
But Washington's top diplomat has been careful to present a united front with the White House in public, even as he attempts to work with Moscow to rein in Assad's forces and build space for a political dialogue.
In August 2013, after Assad had been accused of firing chemical weapons at civilians, Kerry gave a ferocious speech that was seen as prefiguring a retaliatory U.S. military strike -- only for Obama to back down only hours later.
Kerry refers to the speech incident in Friday's leaked recording, but blames the U.S. Congress for refusing to vote to authorize the U.S. military to take action against Assad.