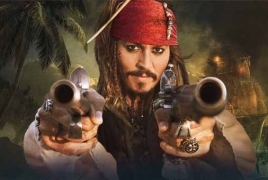 October 3, 2016 - 09:56 AMT
PanARMENIAN.Net - Disney has released the first teaser trailer for "Pirates of the Caribbean: Dead Men Tell No Tales". The chilling video, which debuted during Sunday's season finale of "Fear the Walking Dead" on AMC, features a brutal attack on a ship done by Captain Salazar (Javier Bardem) who is in the search for Johnny Depp's Captain Jack Sparrow, AceShowbiz said.
"Jack Sparrow. Do you know this pirate?" Salazar asks Brenton Thwaites' Henry, the ship's lone survivor, after piercing a wanted sign featuring the eternally drunk pirate with his sword. "Find Sparrow for me and relay a message from Capitan Salazar, and tell him... death will come straight for him," the ghostly villain adds. "Will you say that to him? Please."
The fifth "Pirates of the Caribbean" movie follows the villainous Captain Salazar who leads a horde of deadly ghost pirates out of the Devil's Triangle on a mission to kill every pirate at sea, including Jack Sparrow. To save himself, Jack must find the artifact known as the Trident of Poseidon, which grants its wielder dominion over the sea.
Joachim Ronning and Espen Sandberg directed the movie from a script written by "Tower Heist" scribe Jeff Nathanson. Orlando Bloom, Geoffrey Rush and Kevin McNally are back as Will Turner, Barbossa and Gibbs respectively. Kaya Scodelario and Paul McCartney are also among the cast members.
"Pirates of the Caribbean: Dead Men Tell No Tales" is coming to U.S. theaters on May 26, 2017.