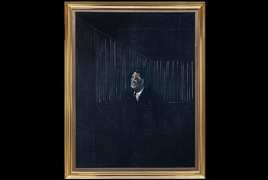 October 3, 2016 - 17:11 AMT
PanARMENIAN.Net - The Guggenheim Museum Bilbao presents Francis Bacon: From Picasso to Velázquez, an exhibition of almost 80 works including some of the most important and yet least exhibited paintings by this British artist born in Ireland, alongside the works of the classic masters from French and Spanish culture who played a huge role in his career, Art Daily said.
Transgressive in both is life and his art, Bacon broke down many barriers that were deeply entrenched at the time, placing human beings in front of a mirror in which we could see ourselves in a raw, violent way.
Francis Bacon was a fervent Francophile. He was an avid consumer of French literature by authors like Racine, Balzac, Baudelaire and Proust and passionate about the art of Picasso and Van Gogh, both of whom lived in France, and the painters who preceded them like Degas, Manet, Gauguin, Seurat and Matisse. Bacon lived in and frequently visited France and the Principality of Monaco. As an adolescent, he discovered Nicolas Poussin's Massacre of the Innocents (1628–1629) near Chantilly, and in 1927 he had a revelatory encounter with Picasso's work when he visited the exhibition Cent dessins par Picasso in the Paul Rosenberg Gallery in Paris, which, in fact, spurred him to decide to embark on his career as a painter. In 1946, he left London for Monaco, where he lived for three crucial years in his career, and where he would regularly return until 1990. Bacon always regarded his retrospective at the Grand Palais in Paris in 1971 as the peak of his career, even though it came at one of the most tragic times of his life, just after the death of his partner, and despite the fact that he had held major retrospectives in London and elsewhere. Throughout his career, Francis Bacon continued to develop ever closer ties with Paris, as attested to by the portraits of his Parisian friends and that fact that he kept a studio in Le Marais until 1985.
After his initial contact with Picasso's oeuvre in the 1920's and 1930's, Bacon's influence from Spanish culture is the most obvious in his obsession with the portrait of Pope Innocent X that Velázquez painted in 1650, which would serve as Bacon's inspiration for more than 50 works. Curiously, Francis Bacon never saw this Velázquez painting, which hangs at the Doria Pamphilj Gallery in Rome, in person; when he had the chance to lay eyes on it during his visit to the Italian capital in 1954, he preferred instead to retain the reproductions in his memory instead of seeing the original painting. In addition to Velázquez, he was also fascinated by other classic Spanish painters such as Zurbarán, El Greco and Goya, whose paintings he fervently admired at Madrid's Museo del Prado, a museum he asked to visit alone just a few years before his death after seeing the Velázquez retrospective held there in 1990. Francis Bacon died on a brief visit to Madrid in 1992, and even though he never had a permanent home in Spain, he was known to have made extended sojourns in Málaga and visits to Seville, Utrera and Madrid.
Picasso: The Gateway to Art "Picasso opened the door to all these systems. I have tried to stick my foot in the door so that it does not close. Picasso was one of that genius caste which includes Rembrandt, Michelangelo, Van Gogh, and above all Velázquez". Francis Bacon
Born into a wealthy British family living in rural Ireland, a place of upheaval in the early 20th century, Francis Bacon was confronted with Pablo Picasso's work in Paris's Paul Rosenberg Gallery at the tender age of 17. Bacon himself revealed that this signaled his shift towards a career in art; this is attested to in some of his earliest works, such as Composi tio n ( Figur e ) (1933), which clearly references Picasso's works from the 1920's, especially Las casetas , the series depicting deformed bathers holding a key, an object that fascinated Picasso and seduced Bacon as well.
Starting with absolutely no technical training, Bacon gradually entered the world of art and quickly assimilated what other creators near him, such as Roy de Maistre, were able to teach him. The mere handful of paintings that have survived from this time—Bacon was dissatisfied with most of them and destroyed them—attest to his early influence from Analytical and Synthetic Cubism, and from Picasso's biomorphic Cubism, which would lead Bacon to develop a language of his own. This vocabulary garnered recognition for the first time in 1933, when the critic Herbert Read reproduced Bacon's Crucifixi o n (1933) in a privileged spot, opposite Picasso's Ba ther (1929) in his publication Art Now: An Introduction to the Theory of Modern Painting and Sculpture . Even though Bacon received this recognition at the start of his career and at a relatively young age, he did not enjoy the same good fortune in the subsequent years.
Human Cages "I cut down the scale of the canvas by drawing in these rectangles which concentrate the image down. Just to see it better." Francis Bacon
After World War II, in which Francis Bacon worked in a civil capacity because of his chronic asthma, the artist's work was once again recognized by critics and the public. He also drew the attention of gallery owner Erica Brausen, who soon exhibited his paintings in different European countries. In 1948, the Museum of Modern Art of New York purchased its first Bacon work from Brausen.
During this period, the artist created a new universe of images conceived via literature, film, art, and his own life. Bacon approached this iconography using a unique language, reflecting human vulnerability with utter rawness. Somewhere between human and animal—as in some of Eadweard Muybridge's photographs—the figures begin to appear enclosed and entrapped in cages or cubes. Bacon used this device to focus the viewer's attention on the figures, which were smudged or disfigured, reduced to strokes of grayish and bluish colors reminiscent of El Greco and the drawings of Alberto Giacometti, which Bacon preferred over his sculptures. Later in this period, Bacon also paid homage to Vincent van Gogh, whom he evoked through his loose brushwork and bright palette, which contrast with the dark figures in other paintings. Bacon was fascinated by the way Van Gogh veered away from the rules and literal reality in favor of expressiveness.
Isolated Figures "I think it is one of the greatest portraits that have been made, and I became obsessed by it. I buy book after book with this illustration in it of the Velázquez Pope, because it just haunts me, and it opens up all sorts of feelings and areas of […] imagination." Francis Bacon
In the mid-1940's, Francis Bacon discovered the image of Pope Innocent X through reproductions. Diego Velázquez painted this work in 1650, and it came to obsess not only Bacon but also other English painters and writers. For more than two decades, Bacon's predilection for this painting was reflected in dozens of works in which the image of the pontiff is transformed in different ways. In some of them, it mingles with the suffering expressed by the decomposed face of the injured woman who appears screaming in Sergei Eisenstein's film Battleship Potemkin , which Bacon had discovered in Berlin at the age of sixteen. In others, the figure is surrounded by butchered animal parts in clear allusion to French painter of Belarusian origin Chaïm Soutine. And in yet others, the image of Innocent X overlaps that of Pius XII, the Pope during World War II whose diplomatic relations with Nazi Germany still spark controversy today.
Velázquez painted his Pope alone, with no context to help identify his high station, just like Christ sacrificed on the cross. The crucifixion is another theme that Bacon revisited time and time again since the beginning of his career, although without religious connotations and always with the intention of revealing the darkest side of the human conditions. Just like his Popes, his Crucifixions undergo transformations, mutations in color, format, or composition, and they are interspersed with other references that captivated the artist, such as Picasso's works and Aeschylus's Oresteia.
Exposed Bodies "I think art is an obsession with life and after all, as we are human beings, our greatest obsession is with ourselves." Francis Bacon
Francis Bacon's first surviving nude painting dates from 1949. The painting shows a man with his back to the viewer, behind whom we can see a smooth surface, which might be curtains. His backbone stands out from his body, similar to an animal's ribcage, reminiscent of the back of the figure depicted in After the Bath, Woman Drying Herself (ca. 1890-–95), a Degas work that Bacon deeply admired.
Four years later, the artist painted two nude men together for the first time, an image which could not be shown in public in England, where homosexuality was still a crime. In Bacon's nudes, especially those rendered after Three Studies for a Crucifixion (1962), which were a turning point in his career, isolated figures in everyday poses predominated, and the painter transforms them until they are virtually unrecognizable, twisting their bodies in an almost animal-like, implausible way, reinventing the portrait. In some cases, the sex of the nudes is ambiguous; in others, it is very clear.
Bacon admired the work of Rodin; he had pictures of his sculptures and made annotations on his figures. The preparatory bronze shown here was made by Rodin as a memorial to James Abbott McNeill Whistler. The works by Whistler and John Singer Sargent in this gallery reflect the influence of Spanish art on British painting, a legacy that sometimes reached Bacon through the filter of the great masters of Edwardian England.
These Bacon paintings are based on the photographs of Eadweard Muybridge, and some of them on the snapshots that the painter commissioned fromo John Deakin, in which he portrayed Bacon's close friends. In these nudes, which are characterized by their extraordinary intensity, Bacon tends to depict the main figure in isolation. He rarely worked in the presence of the sitter but instead drew from the photographs he had commissioned from Deakin, whom he gave very precise instructions on the poses which echoed some of the poses in historical works or in Muybridge's images.
Together, but Isolated "I think that the moment a number of figures become involved, you immediately come onto the story-telling aspect of the relationships between figures. And that immediately sets up a kind of narrative. I always hope to be able to make a great number of figures without a narrative." Francis Bacon
In this gallery we can see Velázquez's portrait of Sebastián de Morra, presented isolated from his surroundings, whose rich clothing alludes to his position within the Hapsburgs. This type of figures, like Pope Innocent X, fascinated Bacon not only thanks to Velázquez's masterful portrayal but also due to the mysterious air that surrounded these paintings. Bacon revisited these works through his own vision thereby altering our perception of the Spanish master's oeuvre.
Here we can also see La Bomba , a painting by John Phillip, a Scottish artist who moved to the south of Spain in the mid-19th century for health reasons. This move had major repercussions on the painter, who came to be known as "Spanish Phillip" due to the influence of masters like Velázquez and Murillo on his oeuvre. La Bomba —whose title alludes to the place where this scene is set, perhaps in Granada—was presented by Phillip in London, where it was extremely successful and inspired numerous British artists of his period. The characters in this painting interact with each other in a friendly way, unlike Bacon's figures, who seem fated to either fight each other or engage in sexual relations, as exemplified by the large triptych which occupies the center of this gallery, Three Studies of Figures on Beds (1972).
The three panels of the triptych have the same background and depict the same scene, although with slight variations in each panel. This three-part format, which Bacon is said to have used 33 times over the course of three decades, allowed the artist to show intentionally fragmented images placed in separate frames. In addition to using this device of the triptych, Bacon also introduced this idea of three-scene compositions into works on canvas, such as Studies from the Human Body (1975).
The Force of a Portrait "Of course, one does put in such things as ears and eyes. But then one would like to put them in as irrationally as possible. And the only reason for this irrationality is that, if it does come about, it brings the force of the image over very much more strongly than if one just sat down and illustrated the appearance…" Francis Bacon
In 1951, Bacon painted his first portrait of a famous person, British painter Lucian Freud, whom he depicted standing and leaning against a doorway. For years he painted friends and people he admired, such as Freud, Michel Leiris, Henrietta Moraes, Jacques Dupin, George Dyer, John Edwards, Reinhard Hassert and Eddy Batache, among many others. Few of these portraits were commissions because Bacon almost always chose the subjects of his paintings, whom he painted primarily based on the photographs that they sent him.
These paintings often had blue backgrounds, which might have been the color of his studio, where some of the photos were taken. Other times, the background is black and evokes the art of the great Spanish masters, while yet other works show other tones, including cadmium orange, which he used in his larger paintings. Bacon not only tried to capture the physical appearance of his subjects; he also tried to convey his relationship with them and how these bonds affected him. They are not only psychological portraits but representations of human relations.
In his paintings, Bacon deforms people with the goal of making them more real than if he depicted them more realistically. Of his two portraits of Leiris, Bacon considers the less literal one more realistic. In the 1970's, claiming a lack of models for his works, he began to paint more self-portraits; between 1971 and 1979, he painted a total of 29, fifteen of them small individual self-portraits. Bacon achieved a great deal of international renown during this period. In 1971, he became the first living artist after Picasso to be the subject of a retrospective in the Grand Palais in Paris, and in 1988 he was the first Western artist to be the subject of an exhibition in the nowdefunct Soviet Union.
Bullfighting "It's based on that famous poem of Lorca's, you know, where the line 'A las cinco de la tarde' keeps coming back. It's a very long and beautiful poem about his friend the bullfighter being killed. I haven't seen a bullfight for a long time – I must have only seen three or four of them in my lifetime – but when you have seen one, it remains in your mind forever." Francis Bacon.
In numerous interviews, Bacon expressed his interest in bullfighting and his admiration of Francisco de Goya. In fact, Bacon actually chose the Spanish master's work Don Andr é s del Peral for an exhibition he curated using works from the National Gallery of London collection in 1985. Goya made 50 red chalk preparatory drawings for his Tauromaquia , in which he used etching, aquatint, dry point, and burin engraving. Even though the main theme in this series is the evolution of bullfights, Goya's position on this issue has recently sparked a fascinating debate among art historians.
Life Essence "This is the artist's privilege—to be ageless. Passion keeps you young, and passion and liberty are so seductive. When I paint I am ageless, I just have the pleasure or the difficulty of painting". Francis Bacon.
In the late 1970's and early 1980's Francis Bacon, now a septuagenarian, reintroduced into his paintings motifs such as the bull, and genres such as the landscape, which had always been secondary in his works. He had painted few landscapes prior to 1978, most of them in the 1940's and 1950's, and many of them still showed traces of humans or animals. In this last stage of his career, his works were pared down; the landscape elements are isolated from their surroundings and confined to the boundaries that the artist defines. In this way, Bacon tackled landscape painting similar to the way he dealt with the human figure. Thus, he "encased" the wave that appears in P ainting March (1985) and the road in Street Scene ( with Car in Distance ) (1984).
The portraits from this late period are increasingly stripped down. The painter actually eliminated elements he had painted in order to diminish the visual references in the composition and focus attention on the main figure. Some of these works were made with aerosol paint, which allowed Bacon to create textures never before seen in his output. These paintings are divided into those rendered with bright colors and those which primarily use dull, grayish tones. Bulls once again appear in these later years. His iconography harks back to artists like Goya and Picasso, as well as to poet Federico García Lorca and writer Michel Leiris, and it specifically references bullfights.
Francis Bacon died in Madrid in 1992, just a short distance from the Museo del Prado, the place where he had encountered many of the great masters he had admired, which he had visited for the last time in 1991 to see Velázquez's works.