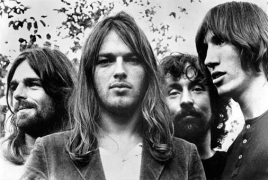 October 13, 2016 - 19:24 AMT
PanARMENIAN.Net - Pink Floyd's Roger Waters has announced a North American tour for 2017, NME reports.
Having headlined Desert Trip festival last weekend, Waters has now confirmed that he'll tour the U.S. and Canada next year.
The'Us + Them' tour will kick off in May in Kansas City, with the stint running until October. In a press release, Water says that he will perform new material during the stint: "Probably 75% of it will be old material and 25% will be new, but it will be all connected by a general theme".
See the full list of tour dates here.
Waters used his set at last weekend's Desert Trip to launch a scathing attack against Donald Trump, slamming him as a 'sexist and racist pig'.
As he performed 'Pigs (Three Different Ones)' from 'Animals, Waters displayed images of Trump as a sheep, holding a dildo as a rifle, in a KKK hood, making a Nazi salute, as well as showing him with sagging breasts and a micro-penis. When he sang the line "ha ha, charade you are," the screens showed Trump's face with the word "CHARADE" written across it. A series of Trump's most infamous quotes were also displayed.
The iconic Pink Floyd inflatable pig also made an appearance, this time with the slogan 'fuck Trump and fuck his wall'.
"It's rare somebody like me gets a platform like this, so I'm going to use it," said Waters, before paying tribute to the people of Palestine and honouring the BDS Movement. "I encourage the government in Israel to end the occupation."