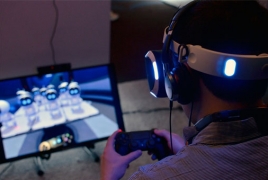 October 17, 2016 - 10:49 AMT
PanARMENIAN.Net - Don't worry about the PlayStation VR not being a huge success - because Sony is convinced it will be, Digital Spy said.
Executive Jim Ryan is expecting to sell "hundreds of thousands" of units following its release on Thursday (October 13). He also confirmed in an interview with CNBC that Sony is planning to ramp up production.
This comes after Andrew House, another big boss at PlayStation, mentioned that they think there will be shortages of the virtual reality gaming tool. However, a different Sony exec, Shuhei Yoshida, said otherwise. Shuhei explained the company has no idea what demand will be for the PS VR as this is new technology (and presumably because the price is quite steep).
Ryan claimed that the $400 price tag is "extremely affordable" and "the take-up is going to be massive".
"We know that the replenishment cycle is a good one, production is going exactly as we anticipated," he said. "We have made decisions to further increase capacity at the back end of 2016 and into 2017, so there are going to be a lot of PlayStation VRs around the world, whether that's enough to satisfy the demands of the market, we'll see."
Going by pre-orders, the headset sold quickly but they are still available at Amazon, GameStop and Best Buy.
Gamespot noted that the research group Superdata thinks they could sell as much as 2.6 million units by the end of the year.