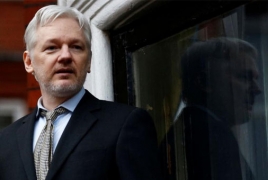 October 19, 2016 - 10:21 AMT
PanARMENIAN.Net - Ecuador said it had cut the internet access of WikiLeaks founder Julian Assange, who is holed up at its London embassy, due to leaks by the anti-secrecy website that could impact the U.S. election, AFP reports.
"The government of Ecuador respects the principle of non-intervention in the internal affairs of other states. It does not interfere in external electoral processes, nor does it favor any particular candidate," the Ecuadoran foreign ministry said in a statement.
In consequence, the ministry said, it decided to "temporarily restrict" communications at the embassy.
WikiLeaks has published a damaging trove of hacked emails from U.S. presidential candidate Hillary Clinton's campaign in recent weeks.
On Monday it accused Ecuador of cutting off Assange's internet communications at the behest of U.S. Secretary of State John Kerry.
The United States denied the allegation.
"Reports that Secretary Kerry had conversations with Ecuadorian officials about this are simply untrue. Period," State Department spokesman John Kirby said Tuesday.
Ecuador also implicitly denied the claim in its statement.
"Ecuador's foreign policy responds to sovereign decisions alone and does not yield to pressure from other states," it said.
Ecuador reaffirmed its decision to grant Assange asylum, and said the restriction on communications at its embassy did not hinder WikiLeaks itself.
"This temporary restriction does not prevent the WikiLeaks organization from carrying out its journalistic activities," it said.
Assange fled to Ecuador's London embassy in June 2012.
The 45-year-old Australian is fighting extradition to Sweden to face a rape accusation.
He denies the allegation and says he fears Sweden wants to hand him over to the United States to face trial for the leaking of hundreds of thousands of classified U.S. military and diplomatic documents in 2010.