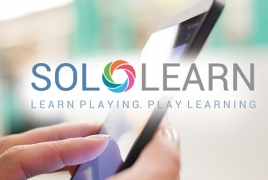 October 19, 2016 - 12:16 AMT
PanARMENIAN.Net - Armenian programming tutor mobile platform SoloLearn announced on Tuesday, October 18 it's raised a $1.2 million seed round to socialize mobile code learning, TechCrunch reports.
Valley VC Learn Capital led the round, joining a number of other unnamed private investors who have already backed SoloLearn.
Learn Capital describes itself as a venture capital firm focused exclusively on funding entrepreneurs with a vision for better and smarter learning.
SoloLearn is a series of mobile applications which teach programming rules with the help of special games. Actually, users get access to new levels after learning a lesson. In the process, they points along with programming skills.
The platform is not aimed at hard-core engineers, but more at "millennials" and students who want a simpler way to learn, which includes interactive lessons, coding exercises, peer-to-peer challenges, and community Q & A. These are all aspects of the app.
The startup now has over two million profiled coders, and over one million coding activities daily.
Usefully, as you improve your score, your profile gets exposed which means you could well end up landing a job out of it.
Yeva Hyusyan, SoloLearn CEO, says: "With coding transformed into a "must-have" skill, the challenge has been to create an enjoyable environment for infinite professional growth. Diversity of experiences and topics paired with peer-to-peer interaction gradually upgrade your coding skills, building your trustworthy coder reputation one step at a time."
In an interesting side aspect, SoloLearn also says it's noticed high traffic from refugees using the app to learn to code.
In late 2015, the research company Mattermark studied young tech companies in Bay Area, in a bid to find and rank the 10 best out of the 582 startups with $10 million funding or less.SoloLearn was among the best.