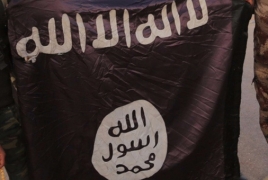 October 22, 2016 - 11:42 AMT
PanARMENIAN.Net - The conflict in Mosul, Iraq has reached a new height of escalation after almost 300 lost their lives at the hands of the Islamic State militants, from whom Iraqi forces have been attempting to seize control of the city back since Monday, October 18. The offensive had been planned for many months, with the city being the militant group's last stronghold in the country, CDA News reports.
According to CNN, all those killed in the slaughter were male, with the total coming to 284 grown men and young boys. Their deaths occurred throughout Thursday and Friday, after being used as human shields against the government-led coalition attempting to force militants out of Mosul. They had been rounded up by IS members after the nearby area was scoured for easy hostages.
The bodies were disposed of in a mass grave at the city's College of Agriculture, where the executions took place, this according to an intelligence source. This source, like many others who have spoken to the media as of late, wishes to remain anonymous due to not having permission to give such a statement to the press. He goes on to say that all of the deceased were shot, with some of them being children, says BBC.
The United Nations has voiced their concern over the Mosul killings, releasing a statement detailing their "grave worry" over the fact that IS has taken hostage at least 550 families and used them as human protection against government forces. The families were forced out of their villages in Najafia and Samalia, and taken to Iraq's second-largest city for this purpose, according to Reuters.
UN Human Rights deputy spokeswoman Ravina Shamdasani called the extremist group's actions an attempt at "preventing] civilians escaping"; UN High Commissioner for Human Rights Zeid Ra'ad Al Hussein gave a statement detailing reports his office had received, alleging that those civilians suspected of disloyalty had been immediately shot dead. He does not support, however, the killing of those responsible; Hussein is a strong advocate for those responsible being brought to justice at the fullest extent of the law, and being made to pay penance for their crimes.
As the slaughter of said 284 civilians were taking place in Mosul, the Islamic State was executing another attack 109 miles southeast of the city. Several security buildings were targeted in Kirkuk, with militants opening fire on those standing guard. Elsewhere, a separate IS attack took the lives of 12 in the city of Dibis.
The fight for Mosul started strong on both sides, with IS militants detonating suicide bombs left and right the moment the battle began. As it stands right now, Iraqi forces have succeeded in recapturing 100 square km of territory.