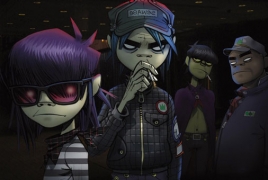 October 22, 2016 - 14:12 AMT
PanARMENIAN.Net - Gorillaz continue to tease their comeback and new album, this time unveiling 'The Book Of Murdoc' online, according to NME.
The animated band made their online return last month across their social media accounts. They have since shared two online stories: 'The Book Of Noodle' and 'The Book Of Russel'. Each tells the story of what happened to a particular band members after (s)he left the fictional island Plastic Beach.
Now comes 'The Book Of Murdoc', an 11-part story which ends with the band's bassist agreeing to write a new album.
'The Book Of Murdoc' arrives amid rumours the band could be preparing to share a new song this weekend.
The Damon Albarn-led project are tipped to release new music very soon, with numerous clues about new material dropping in the past year. Most recently, the band's drummer Russel gave a rare interview in which he cryptically stated that "what is coming will come, whether you expect it or not".
Earlier this week guitarist Noodle gave possibly the biggest indication yet that a new song might be coming through a post on her Instagram.
She shared a picture of an ink design that incorporates the Beats 1 show Soulection's logo on a white background. Tagged in the caption is DJ Gilles Peterson, who regularly hosts the show. A number of emojis, including musical notes and a radio, are also included.
Soulection's next show on Beats 1 airs on Saturday evening (October 22). This post certainly suggests the show could feature an exclusive first play of the animated band's new track.
The band's fifth album and first since 2011's 'The Fall' was originally due for release this year. However, it now looks set to drop next year after animator Jamie Hewlett said it was "really fucking special" and "can't be rushed".
Back in July, Damon Albarn said: "Later in the year we'll be starting to get the whole thing together. I'm loving it and it's getting there. It should be ready fairly soon."