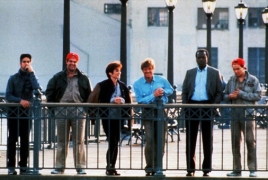 October 22, 2016 - 15:19 AMT
PanARMENIAN.Net - NBC is looking to get into the cyber conspiracy game. The network has handed out a script order for a reboot of 1992 computer hacker movie Sneakers, The Hollywood Reporter has learned.
The feature film, a comedic caper, starred Robert Redford and Ben Kingsley as college students who hack into computer networks using university equipment in a bid to redistribute conservative funds to liberal causes. The movie explores their diverging paths and ultimate reunion as one goes the organized crime route while the other works with law enforcement.
Lawrence Lasker, Walter Parkes and Phil Alden Robinson penned the feature script. Parkes and his wife and producing partner Laurie MacDonald will executive produce the NBC reboot with Tom Szentgyorgyi (The Mentalist, NYPD Blue) set to pen the script.
The drama hails from Universal Television, where Parkes + MacDonald are under an overall deal. Universal Television's film counterpart Universal Pictures produced the movie, which co-starred Dan Aykroyd, Mary McDonnell, River Phoenix, Sidney Poitier and David Strathairn. Sneakers was produced on a budget of $35 million and grossed $105.2 million worldwide.
Sneakers arrives as USA Network has found success with hacker drama Mr. Robot, which scored leading man Rami Malek an Emmy.
Parkes + MacDonald's TV credits include NBC's The Slap andCrossbones. On the feature side, the duo's credits include Gladiator, Catch Me If You Can, Men in Black and Keeping Up With the Joneses, which opened in theaters this week.
Reboots continue to remain in high demand as broadcast, cable and streaming outlets look for proven IP in a bid to cut through a cluttered scripted landscape that is quickly approaching 500 original series. Key to the remakes is having the original producers involved in some capacity (which Sneakers does with Parkes) as more studios look to monetize their existing film libraries.
Already in the works this season are reboots of Enemy of the State (ABC), Dynasty (The CW), War of the Worlds (MTV), Magnum P.I. (ABC), The Lost Boys (CW), Varsity Blues (CMT), The Departed (Amazon), Let the Right One In (TNT) and L.A. Law, though the latter does not yet have a network attached.