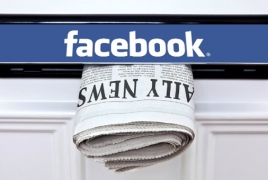 October 31, 2016 - 14:35 AMT
PanARMENIAN.Net - Facebook this summer made an unsuccessful bid to acquire Snow, a Snapchat-like service from Naver, the $25 billion-valued Korean firm behind chat app Line, a source close to the company told TechCrunch.
Snow currently has around 80 million downloads, and it is adding around 10 million more each month, according to the source. That growth has also encouraged acquisition interest from Tencent — the maker of blockbuster chat app WeChat — Alibaba and others, TechCrunch understands.
"It's true that Snow is receiving love calls from various companies," a representative from Naver told us in a statement. Despite acknowledging outside interest, Naver did not name Snow's would-be suitors.
Facebook did not respond to requests for comment.
The app first grabbed attention in the summer when it raced up Android and iOS app store rankings in Korea, Japan and China, collecting some 30 million downloads.
While it is easy to label Snow as a Snapchat clone, the app does have some differentiated features, TechCrunch says.
For one thing, Naver has worked hard to localize the service in markets, much the same way as it did with Line when the chat app emerged in 2011-2012. Most notably, it is working with celebrities in Korea and Japan, where it sees the most traction and potential, to feature their stories prominently inside the app alongside live streams, too. That helps encourage users back into the app for more reasons than simply to message their friends, while it also may unlock monetize options in the future.
The app itself has over 36 filters and more than 200 masks, offering considerably more customization options than Snapchat — a move that is in line with appealing to its core audience in Asia. Some options include filters for both images and videos that involve celebrities, cartoon characters, fairies and even one scene as a drunken 'salary man' making a toast.