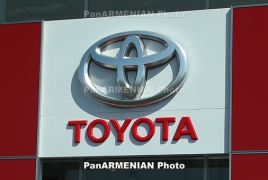 November 7, 2016 - 13:15 AMT
PanARMENIAN.Net - Toyota Motor Corp is looking at mass-producing long-range electric vehicles (EVs) that would hit the market around 2020, the Nikkei newspaper reported on Monday, November 7, in what would be a dramatic reversal of strategy for the world's top-selling automaker, Reuters revealed.
Even as rivals such as Nissan Motor Co, Volkswagen AG and Tesla Motors have touted pure electric cars as the most viable zero-emission vehicles for the future, Toyota has said it would reserve EVs for short-distance commuting given the high price of rechargeable batteries and lengthy charging times.
By adding longer-range EVs to its product range, Toyota would be changing its tune from promoting plug-in petrol-electric hybrid cars and hydrogen fuel-cell vehicles (FCVs) as the most promising alternative to conventional cars.
The Nikkei business daily, without citing sources, said Toyota would set up a team in early 2017 dedicated to developing electric cars that can travel more than 300 km (186 miles) on a single charge.
The paper added that Toyota aims to begin selling its first long-range EV in 2020 in Japan as well as other markets such as California, and China - the world's biggest car market - which is promoting a switch to battery EVs.
Toyota neither confirmed nor denied the report, saying it does not comment on product development plans. In an emailed response, it said it continued to develop various fuel-efficient technologies, including EVs, with the best application for each in mind.
Toyota has pledged to make all of its vehicles essentially emissions-free by 2050.
Industry experts said emissions regulations in California, widely considered a benchmark in global vehicle emissions standards, and China's push to increase electric car usage could be behind a possible change of heart at Toyota.
"Toyota has been a major hold-out on EVs, but it appears that it now realizes that without them it may be difficult to satisfy tightening regulations," said Takeshi Miyao, managing director of consultancy Carnorama.