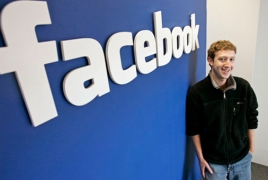 November 9, 2016 - 12:01 AMT
PanARMENIAN.Net - Facebook is launching another Snapchat clone, a standalone ephemeral picture and video messaging app — complete with face-distorting masks — that looks almost identical to Snapchat, Recode said.
Facebook's two previous attempts to create a legitimate Snapchat competitor flopped.
But this time Facebook is trying something different: Its new app, Flash, was built by Facebook's growth team specifically for emerging markets where Wi-Fi is scarce and connectivity is weak. Facebook boasts that Flash is "less than 25 MB" in size, or roughly one third as big as Snapchat's Android app on Google's new Pixel phone.
Regardless, this much is clear: Facebook is trying to beat Snapchat to emerging markets, where it doesn't already have a stranglehold on potential users. Facebook may not be able to win over American teens this late in the game — Snapchat already has 60 million daily users in the U.S. and Canada. But what about those in Brazil? Or Indonesia? Or India?
If teenagers in Brazil can get a lightweight version of Snapchat (Flash) that doesn't take up much data or storage, perhaps they won't need Snapchat at all. At least that's Facebook's hope.