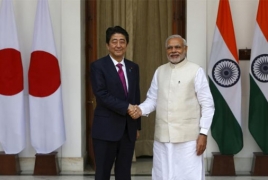 November 10, 2016 - 13:42 AMT
PanARMENIAN.Net - Indian Prime Minister Narendra Modi headed to Japan on Thursday, November 10 to seal a landmark nuclear energy pact and strengthen ties, as China's regional influence grows and Donald Trump's election throws U.S. policies across Asia into doubt, Reuters reports.
India, Japan and the United States have been building security ties and holding three-way naval exercises, but Trump's "America First" campaign promise has stirred concern about a reduced U.S. engagement in the region.
Such an approach by Washington could draw Modi and his Japanese counterpart Shinzo Abe even closer, said foreign policy commentator and former Indian ambassador M.K. Bhadrakumar.
Officials in New Delhi and Tokyo said a deal that will allow Japan to supply nuclear reactors, fuel and technology is ready for signing after six years of negotiations to find a way around Tokyo's reservations about such an agreement with a country that has not signed the nuclear Non-Proliferation Treaty (NPT).
India says the NPT is discriminatory and it has concerns about nuclear-armed China as well as its long-time rival Pakistan.
Japan, the only country to have suffered a nuclear attack, has been seeking assurances from New Delhi that it would not conduct nuclear tests any more.
Indian foreign ministry spokesman Vikas Swarup said the two sides had reached a broad agreement on nuclear collaboration as early as last December and had since been trying to finalize the document.
A "legal, technical scrub" of the agreed text has now been done, he said, but added that he could not pre-judge the outcome of Modi's summit talks with Abe over Friday and Saturday.
A Japanese ruling party lawmaker said the two sides will sign an agreement during Modi's visit. A Japanese foreign ministry spokesman declined to comment.