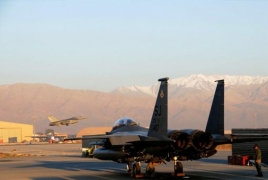 November 12, 2016 - 13:37 AMT
PanARMENIAN.Net - A huge explosion at Bagram airbase in Afghanistan, the largest U.S. military facility in the country, has killed at least four people.
At least 14 others were wounded in the blast, local district governor Haji Shookor told the BBC.
The Taliban said one of their suicide bombers had carried out the attack, which reportedly hit a dining area.
The attack is being seen as a major security breach in one of the best protected places in Afghanistan.
Bagram, just north of the capital Kabul, has been used as the main military base and airfield by the U.S.-led forces and Nato over the past 14 years.
A local government spokesman was quoted as saying the attacker entered the base early in the morning on foot hidden among a group of workers reporting for duty.
Abdul Wahid Sediqi told AFP: "We don't know the identity of victims yet but the attacker was one of the Afghan labourers working there."
The airbase, hit while people gathered to celebrate Veteran's Day, has several layers of security and checkpoints.
Attacks inside the compound are rare, although several attacks have occurred at the compound's outer gates.
General John W Nicholson, U.S. Army commander in Afghanistan, said in a statement:
''[To] the family and friends of those wounded in today's attack, let me assure you they are receiving the best care possible, and we will keep them in our thoughts today."
He said the incident was being investigated but did not disclose the nationalities of the casualties.
Taliban spokesman Zabihullah Mujahid said the blast had inflicted "heavy casualties on U.S. invaders".
Last December, a Taliban suicide bomber riding a motorbike killed six U.S. soldiers in a village near Bagram in one of last year's deadliest attacks on foreign troops.
The attack on Bagram comes just a day after the German consulate in the city of Mazar-e-Sharif in northern Afghanistan was hit by a Taliban suicide bomb blast that killed six civilians and wounded some 120 others.
The Taliban said on Friday the attacks were carried out in retaliation for a recent coalition airstrike in Kunduz which reportedly killed some 30 civilians.
The Taliban are stepping up their attacks before the onset of winter, the BBC said.