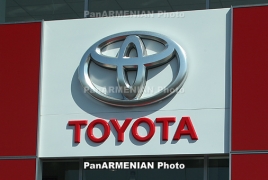 November 17, 2016 - 10:58 AMT
PanARMENIAN.Net - Toyota Motor Corp said on Thursday, November 17 it would create a new in-house team to develop electric vehicles as the Japanese automaker speeds up its efforts to develop more of the lower-emission cars, Reuters says.
Toyota said the team would consist of four people - one each from the automaker, machine manufacturer Toyota Industries Corporation, and parts suppliers Aisin Seiki Co and Denso Corp.
The automaker, which has invested heavily in hydrogen fuel-cell vehicles as the most promising "green" alternative to conventional cars, this month said it would like to have the option of developing full-sized electric vehicles.