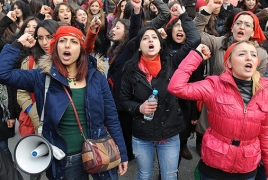 November 17, 2016 - 15:58 AMT
PanARMENIAN.Net - A massive protest against Turkey's leader took place in Brussels on Thursday, November 17 as President Recep Tayyip Erdogan continues to carry out a widespread purge in the wake of the military coup, Western media report.
Pro-Kurdish demonstrators, including Armenians and Assyrians, took to the streets of Belgium's capital to rally against the arrest and detention of journalists, politicians, teachers and military figures under the pretence they tried to overthrow the government on July 15.
More than 100,000 people have been arrested, many without charge, in response to the military putsch that left 425 civilians dead and hundreds more wounded.
But many of those arrested are Kurdish, as are many of the media organisations forcibly closed and the politicians deposed from office, prompting fears President Erdogan is trying to rid his country of any kind of opposition.
The tens of thousands of protesters, organised by the main opposition party, the HDP, marched through the EU's capital in a show of defiance against what they deem to be an unjust dictatorship.
MEP and Turkey rapporteur, Kati Piri, has called on the European Union to immediately freeze accession talks until the Turkish government returned to a normal path.
Turkey is attempting to join the EU, but the purge and the fact the country is set to vote to bring back the death penalty have stalled membership negotiations.