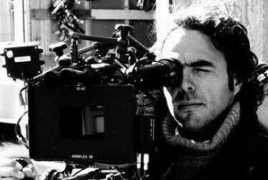 November 18, 2016 - 12:52 AMT
PanARMENIAN.Net - The Tribeca Film Festival has selected Barbra Streisand and Alejandro González Iñárritu as two of the Tribeca Talks conversations for the 16th annual Festival, which opens April 19, Variety reports.
The festival also announced Thursday, November 18 that it will hold the world premiere of Kathryn Bigelow and Imraan Ismail's virtual reality documentary short "The Protectors: Walk in the Ranger's Shoes," which shows a day in the life of African rangers protecting elephants from ivory poachers.
"At Tribeca we celebrate the power that film and art has to transport and unite communities," said Jane Rosenthal, executive chair of Tribeca Enterprises and Tribeca Film Festival Co-Founder. "As the first woman to win the Oscar for directing, Kathryn Bigelow continues to break boundaries in storytelling by using VR to take us to the frontline battle with Ivory poachers in the Congo in the stunning new documentary which she co-directed with Imraan Ismail."
"The Protectors: Walk in the Ranger's Shoes" is created in partnership with African Parks, National Geographic, Patrick Milling-Smit, Chris Milk's Here Be Dragons (fka Vrse.works) and Megan Ellison's Annapurna Pictures.
"We must stop the senseless slaughter of these magnificent and sentient creatures, if not us then who?" Bigelow said. "Eliminating the market side of the ivory trade may take generations to be fully effective and extinction will not wait. This film shows the park rangers of Garamba National Park, in the DRC, they are the last line of defense in a desperate war with poachers to stop the ivory trade at its source."
Streisand will take part in the Storytellers series and Iñárritu — who won back-to-back directing Oscars for "Birdman" and "The Revenant" — will be one of the headline conversations in the Directors Series.
Tribeca's Paula Weinstein said, "These three creative forces – Alejandro, Barbra, Kathryn –are true auteurs. They push themselves and their audiences by constantly entertaining and challenging us through their work. I am ecstatic that Alejandro and Barbra are joining us for Tribeca Talks."
"Alejandro's vision inspires me; moments from each of his films are seared in my mind – there is so much inventiveness – you are on his trip. Everyone has recognized Barbra as a singer and songwriter but her voice as a filmmaker, her tenacity as a director and fearlessness as an activist is what I admire most about her."