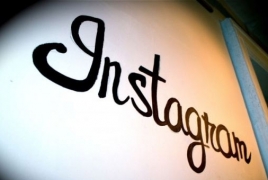 November 22, 2016 - 13:36 AMT
PanARMENIAN.Net - Instagram is combining the best of Snapchat and Periscope to help you get comfortable on camera. Rather than overlap with Facebook Live and Messenger, Instagram is putting an ephemeral spin on video streaming and private messaging.
On Monday, November 21, two big new features began rolling out to Instagram Stories on iOS and Android over the next few weeks. Instagram Live lets you broadcast video to your followers in real-time, but they can only watch while you're still streaming. No replays. But you will be able to browse an algorithmically curated Explore page of the best Instagram Live videos happening right now, TechCrunch reports.
And if you don't feel like sharing a doodle and text-covered Instagram Stories post to all your followers, you'll be able to send it as a ephemeral Direct message to just a few of your closest friends. But they can only watch it twice before it disappears.
"We pivoted" Instagram's head of product Kevin Weil says: "Instagram should be all of your moments, not just your highlights."
Since the new Live and Direct content self-destructs, Instagram hopes users will be less concerned about how they look or if they're doing something cool.
To go Live, you'll swipe from the Instagram Stories camera. Instagram will choose some close friends who've shown interest in Live video to hit with notifications to come watch, as well as showing a Live tag on your Instagram Stories bubble that appears at the top of the feeds of your followers. Not alerting everyone who follows you prevents notification overload that plagued Periscope early on.
Viewers can comment, or tap repeatedly to add hearts exactly like on Periscope but with their face in some of the hearts. Broadcasters can add comments too, and helpfully pin one of theirs or a viewer's to the top of the reel. For a more peaceful, FaceTimey experience, streamers can hide comments or all the buttons, and they can block or report anyone who harasses them.
Since none of your friends might be Live at any given moment, Instagram's Explore tab Stories section will highlight the best Live streams happening now. Based on view count, geography, and language, Instagram will provide a curated channel you can swipe through, creating the most laid-back Live discovery and consumption experience around.