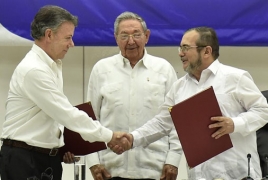 November 23, 2016 - 10:46 AMT
PanARMENIAN.Net - Colombia's government and FARC guerrillas will sign a new peace accord Thursday, November 24, after a previous agreement to end their half-century-old war was defeated in a referendum, both parties said, according to AFP.
The new, revised accord will be submitted to Congress for approval, rather than put to another referendum, they added.
Last month voters taking part in that referendum surprisingly snubbed the first accord. Critics said it went too easy on the rebels, who have been waging what is now Latin America's last major insurgency.
"The government and FARC delegations have agreed to sign the final agreement to end the conflict and build a stable and lasting peace," negotiators from both sides said in a statement Tuesday.
The new accord was first announced on November 12. The signing will take place at 11:00 am (1600 GMT) at the Colon Theater in Bogota.
The accord will later be submitted to Congress for its approval, the two sides said.
"We are working out the procedures necessary for this," they said.
The government holds a majority in the legislature.
President Juan Manuel Santos insists the new proposal is stronger and takes into account changes demanded by his political opponents.