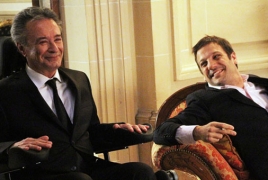 November 29, 2016 - 17:24 AMT
PanARMENIAN.Net - In a deal which twins two driving forces behind Latin America's movie business – Hollywood's studios and the remake business – Sony has scooped up multi-territories in Latin America on "Inseparables", the Argentine hit remake of French 2011 B.O. juggernaut "The Intouchables," which grossed $427 million worldwide.
Struck by Guido Rud at FilmSharks Intl., the deal looks to complement another studio accord, with Disney's Buena Vista Intl., for much of Latin America.
World premiering at September's Venice Festival, "Inseparables" was released by Disney in Argentina this August to a robust 350,000 admissions – about $1.8 million in gross box office – making it the fifth-highest grossing Argentine release in Argentina this year.
Starring Oscar Martinez – the Venice best actor winner for "A Distinguished Citizen" who also had a memorable turn in "Wild Tales" as the father of the hit-and-run son – as a wealthy quadriplegic, "Inseparables" has Rodrigo de la Serna, co-star of Walter Salles' "The Motorcycle Diaries," playing his caregiver in the role which gave Omar Sy a career milestone in the original French version.
"Inseparables" was produced by Fiapf president Luis A. Scalella out of his Argentine banner Sono Film banner and is directed by Marcos Carnevale, whose credits include "Corazon de Leon."
"The movie is a 40 million ticket property remade into a new version which is better than the original film according to the critics, and premiered at one of the top film festivals," said Rud.
"Inseparables" also marks a relatively rare case of an Argentine remake. The country, which has a string line in high-concept, sometimes raunchy, comedies of manners, is more used to spawning retreads from its own originals. "Corazon de Leon," for example, has been reversioned in Colombia and France, the latter in "Un homme a la hauteur" with a dream cast of Jean Dujardin, an Academy Award winner with "The Artist," as the diminutive protagonist and Virginie Efra as his non-height-challenged lover.
On the Sony deal, FilmSharks has sold a physical movie. That said, the deal forms part, moreover, of an international remake boom.
National comedies, made by local film industries in a local language, now regularly beat out Hollywood comedic imports in many markets around the world. Comedy is, indeed, the main genre where local industries hold sway over Hollywood. These titles are often launched at mainstream audiences. Yet they can work through questions of class, morality, such as Argentine swinging dramedy "2 + 2," optioned by FilmSharks to Italy's Mediaset; or gender politics, as in Brazil's "If I Were You," picked up for Mexico by "Instructions Not Included" producer Monica Lozano.
Remake business specialists are consolidating: French studio Gaumont, the co-producer, distributor and sales agent of the original "The Intouchables," working out of France and the L.A.; and Rud's own Buenos Aires-based FilmSharks Intl., who just this year licensed French remake rights to Argentine hit "Chinese Takeaway," acquired worldwide remake rights to Alex de la Iglesia's horror comedy "Commonwealth" (La Comunidad), and sold to Fox International Productions an option on multiple-language remake rights for Argentine comedy "Permitidos" (That's Not Cheating).
The big prize, however, is a U.S. remake. "More and more producers and studios that trust our instinct for 'high concept' Latin American box office or sales hits know they can create a regional version remake. That may open the door for a later American version that can be exploited worldwide," said Rud.
The Sony deal on "Inseparables" does not specify what territories are in the sales accord. But it may test the waters for a remake of a remake, if the Argentine "Inseparables" flies at local cinemas.