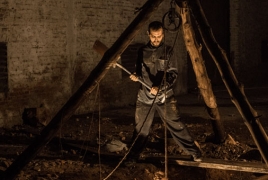 November 30, 2016 - 14:19 AMT
PanARMENIAN.Net - In the first deal to go down at Ventana Sur, FilmSharks Intl. has secured world sales rights to adventure thriller "Los Buscadores", Juan Carlos Maneglia and Tana Schembori's follow-up to 2012's box office, sales and festival breakout hit, action thriller "7 Cajas" which Breaking Glass Pictures picked up for the U.S., among multiple deals cut around the world, Variety said.
Producers Maneglia-Schembori Producciones have also made available a first image from "Los Buscadores" (pictured).
Made on three-times the budget of '7 Cajas,' incorporating more comedy and thriller elements but, said Schembori, the same spirit, "Los Buscadores" turns on a 21-year-old newspaper boy, Manu, who accidentally happens upon a map and old photo in a book given him by his grandfather, a former treasure hunter of "Plata Yvyguy," gold and jewels buried by families in Paraguay's 1864-70 War of the Triple Alliance and never retrieved as they fled the country.
Identifying one treasure site with the help of another paperboy, he discovers the site is now an embassy and sets out to inveigle himself into its household, despite the suspicions of its staff, enamouring one of its maids.
Written like "7 Cajas" by Maneglia, here with Mario González Marti and with script consultancy by "Son of the Bride" scribe Fernando Castets, "Los Buscadores" went into production from May 2, shooting largely in Asunción, especially in the neighbourhood of Chacarita, a picturesque, vibrant community, right next to downtown Asuncion.
"The Buscadores" is produced by the directors' Asuncion-based outfit Maneglia Schembori Realizadores in partnership with Christian Chena. Associate producers are Richard Careaga, Gabriela Sabate and Mariana Pineda. René Ruíz Díaz heads up executive production.
Licensed by Shoreline Entertainment, "7 Cajas" proved one of the company's bestselling titles ever. It also garnered some rave reviews, charmed audiences and won a slew of prizes, including San Sebastian's Film in Progress Industry Award in 2011 and New Directors Euskaltel Youth Award in 2012 plus Miami Fest's Audience Award and a jury mention at the Palm Springs Intl. Film Festival in 2013. It went on to play at 101 festivals by early September 2014.
As with "7 Cajas," however, part of the fascination of "Los Buscadores" is likely to be the window it opens up onto Paraguay itself, its landmarks, people, customs and society.
"Los Buscadores" "represents much more than a second film: the commitment to go on showing Paraguay to the world, one way to bear witness to a little piece of our world, our vision, our way of being," Maneglia and Schembori said in a statement announcing the movie's shoot.