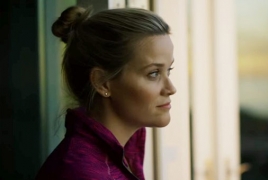 December 2, 2016 - 11:02 AMT
PanARMENIAN.Net - Behind their sweet smiles, there's suppressed tension and rivalry. HBO has released the first full trailer for star-studded miniseries "Big Little Lies" starring Reese Witherspoon, Nicole Kidman and Shailene Woodley as moms in Monterey, AceShowbiz said.
It sees Madeline (Witherspoon) and Celeste (Kidman) welcoming Jane (Woodley) to the town with open arms. "You're gonna love it," Madeline assures her new neighbor. "You're so nice," Jane says. "This is Monterey. We pound people with nice," Madeline claims. Celeste adds, "To death."
The next things we see are moms trading jabs, shots of party, a gun being shot and a crime scene. Some women seem to give testimonies about Madeline and Celeste. "Everybody wants to prove who's the richest," one of them says. Another adds, "Ticking bomb: I'll leave it at that."
Based on Liane Moriarty's 2014 best-selling book, the miniseries follows three mothers of kindergartners whose apparently perfect lives unravel to the point of murder. It's described as a dark comedy.
David E. Kelley penned the eight-episode miniseries, while Jean-Marc Vallee serves as director. Also starring Laura Dern, Alexander Skarsgard, Adam Scott and Zoe Kravitz, it is set to premiere Sunday, February 19 at 9 P.M. ET.