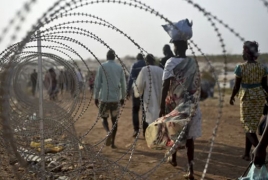 December 2, 2016 - 11:08 AMT
PanARMENIAN.Net - UN human rights experts on Thursday, December 1 said "ethnic cleansing" was underway in South Sudan after visiting the country where violence has soared since a peace deal collapsed in July, AFP reports.
"There is already a steady process of ethnic cleansing underway in several areas of South Sudan using starvation, gang rape and the burning of villages; everywhere we went across this country we heard villagers saying they are ready to shed blood to get their land back," said Yasmin Sooka of the UN Commission on Human Rights in South Sudan.
"Many told us it's already reached a point of no return."
Sooka was part of a three-member team which travelled to battleground towns including Bentiu, Malakal and Wau to gather facts about the situation in the world's youngest country.
Jarring testimony gathered by the team during their 10-day visit shows a nation on the brink of "catastrophe", said a statement issued by the commission.
"The stage is being set for a repeat of what happened in Rwanda and the international community is under an obligation to prevent it," said Sooka, according to AFP.
At a press conference in Juba on Wednesday, Sooka warned of "unprecedented levels of violence and ethnic tension" without using the term ethnic cleansing, a war crime closely related to genocide which refers more to groups being forcibly removed from a particular area.
South Sudan's current conflict began nearly three years ago when President Salva Kiir accused his former deputy and political rival, Riek Machar, of plotting a coup.
Hopes that an August 2015 peace deal would bring peace to the young nation were dashed when fighting erupted in Juba in July, leading to a surge of violence around the country characterised by divisions between the country's 64 tribes.