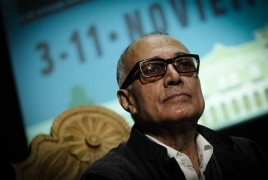 December 5, 2016 - 11:09 AMT
PanARMENIAN.Net - Iranian master Abbas Kiarostami, who passed earlier this year, was celebrated at Marrakech Film Festival during a moving hommage hosted by his son, Ahmad Kiarostami, on Saturday evening, December 3, according to Variety.
Speaking about his father's uncompromising love of life, Kiarostami told Marrakech audiences that someone once asked his dad what he would chose between living without his work or his work existing without him. "He said he'd choose his own existence over his films. That's how much he loved his life," said Ahmad Kiarostami.
"Now he's gone but he is with us with his films, his photography, his poetry, and hundreds of people he has trained in his master classes all around the world, and I see all these different events and tributes around the world, and all of you are here, as a continuation of his presence," said the director's son.
"When he came, he came, when he was there, he was there, when he left, he was there,'" said Ahmad Kiarostami, reading one of his father's poems.
The speech drew a long ovation and was followed by the screening of Kiarostami's black-and-white wordless short film "Take Me Home," which he lensed in Southern Italy.
Kiarostami headed Marrakech Film Festival's jury in 2009 and returned last year to deliver a master class.
Credited for giving Iranian cinema an international profile and paving the way for other filmmakers in Iran and elsewhere with his poetry-filled, singular movies, Kiarostami died at age 76 in July.
Although the media attributed Kiarostami's death to a cancer, the director's closed ones said he died of a stroke, four months after getting a surgery at a Tehran hospital.
At the time of his death, Kiarostami was developing "24 Frames," an experimental film based on 24 four-and-a-half minute films that he had been directing over the last three years.