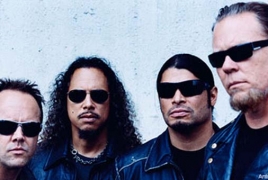 December 12, 2016 - 15:06 AMT
PanARMENIAN.Net - Metallica frontman James Hetfield has revealed that a song from their new album was inspired by Amy Winehouse, NME said.
Winehouse's death influenced the track 'Moth Into The Flame' from 'Hardwired… to Self-Destruct'. Hetfield recently told Canadian radio's 102.1 The Edge that he was inspired to write the song after watching last year's Amy documentary.
He explained: "Just watching that movie was extremely saddening – how her life went from such a lively joyous person, to someone who was just trying to escape the reality of where she was."
"It really hit me in the one part of the movie where she was lost in her mind, it seemed, and she was just leaving her flat in England. The press were just hanging out in front of her place all the time, snapping these pictures of her. 'Hey, Amy, how's it going?' Talking to her like they know her."
"They just don't notice – they wouldn't say, 'You look skinny, you look unhealthy.' There was a total misconnection there with reality."
Hetfield previously spoke about the song in an interview with BBC 6 Music, where he said: "The film about Amy Winehouse inspired me to write that song. It's a sad movie. Fame can be a dark, dangerous drug. Everybody wants a piece of you. It totally changes your view of the world."
"Fame has followed me around since we formed the band," he continued. "It's a Pandora's box that often makes you wonder: 'Okay, how do I now become unfamous?'"
The metal group's first album in eight years, 'Hardwired… To Self-Destruct', was released last month (November).