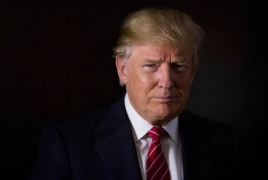 December 15, 2016 - 11:12 AMT
PanARMENIAN.Net - As of Thursday, December 15 morning, more than 1200 Silicon Valley engineers and employees signed a pledge refusing to cooperate with the administration of President-elect Donald Trump on his proposal to build a Muslim registry and implement mass deportations of minority communities.
In the NeverAgain.tech petition, the employees say they have educated themselves on the history of threats like these, and on the roles that technology and technologists played in carrying them out.
"We see how IBM collaborated to digitize and streamline the Holocaust, contributing to the deaths of six million Jews and millions of others. We recall the internment of Japanese Americans during the Second World War. We recognize that mass deportations precipitated the very atrocity the word genocide was created to describe: the murder of 1.5 million Armenians in Turkey. We acknowledge that genocides are not merely a relic of the distant past—among others, Tutsi Rwandans and Bosnian Muslims have been victims in our lifetimes," the petition said.
"We refuse to participate in the creation of databases of identifying information for the United States government to target individuals based on race, religion, or national origin."
The NeverAgain.tech petition was created in response to the Intercept's report of Twitter being only one out of nine major tech companies publicly refusing to assist with Trump's proposal for a Muslim registry. The other eight companies — Google, Microsoft, Apple, IBM, Booze Allen Hamilton, CGI and SRA International — have not responded with any public statements on whether they would refuse to help to build a Muslim database.
Silicon Valley workers who signed the pledge promised to fight back or resign from their positions if their employers force them to conduct surveillance on minority communities or invade their constitutional rights to privacy. They also vow to ask their companies to minimize data collection and retention that could potentially be used to target minority communities.