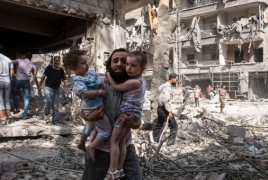 December 16, 2016 - 10:31 AMT
PanARMENIAN.Net - Thousands of civilians and rebels left Aleppo on Thursday, December 15 under an evacuation deal that will allow Syria's regime to take full control of the city after years of fighting, AFP said.
The International Committee of the Red Cross said the operation could take days as US Secretary of State John Kerry warned action was needed to prevent a Srebrenica-style massacre with tens of thousands of civilians still trapped in the city.
Three convoys left Aleppo carrying wounded civilians, fighters and their families, with civilians mostly leaving on buses and ambulances.
"Some 3,000 civilians and more than 40 wounded, including children, were brought out," the head of the International Committee for the Red Cross in Syria, Marianne Gasser, said after the first two convoys left.
"No one knows how many people are left in the east, and the evacuation could take days," she added.
The withdrawal began a month to the day after Syrian government forces launched a major offensive to retake all of Aleppo, and will hand the regime its biggest victory in more than five years of civil war.
In a video message to Syrians, President Bashar al-Assad said the "liberation of Aleppo was history in the making."