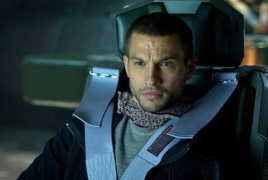 December 16, 2016 - 10:53 AMT
PanARMENIAN.Net - "Prometheus" star Logan Marshall-Green is toplining in science-fiction movie "Stem" with Leigh Whannell directing from his own script, Variety reports.
Marshall-Green will portray a man in a near-future world who uses an experimental computer chip to avenge his wife's murder and his own injury.
Production companies are Blumhouse in association with Goalpost Pictures Australia. The movie will shoot in Melbourne.
Whannell wrote "Saw," "Dead Silence," "Insidious" and "Insidious: Chapter 2." He made his directorial debut on the 2015 "Insidious: Chapter 3." The horror franchise's fourth iteration opens Oct. 21, 2017.
Whannel was a producer or executive producer for all the "Saw" films.
Marshall-Green recently starred in Karyn Kusama's horror-thriller "The Invitation" and he has been cast as a villain in Sony-Marvel's "Spider-Man: Homecoming" opposite Tom Holland and Michael Keaton.
"Prometheus" was directed by Ridley Scott. Marshall-Green starred with Noomi Rapace, Michael Fassbender, Guy Pearce, Idris Elba and Charlize Theron.
Blumhouse, headed by Jason Blum and based at Universal, has credits on a variety of low-budget horror franchises, including "Insidious," "The Purge," "Ouija and "Paranormal Activity." It also produced "Whiplash."